How to Play Battle Royale Warzone 2.0
Battle Royale is the game mode in Warzone 2.0 in which players are pitted against each other until the last team survives to declare a winner. Read on to learn how to play Battle Royale and see all the Battle Royale tips you can do!
You can tweak the custom loadout from the Weapons tab before starting the match, especially if you're planning on getting and using them to win. Customize your loadout to bring out the best gun possible on Battle Royale.
Default loadouts are somehow reliable, and you can use them as is if you don't want to spend time experimenting with your weapons.
| Queue | Max Players | Team Players |
| --- | --- | --- |
| BR Solo | 150 Players | 1 Player |
| BR Duos | 150 Players | 2 Players |
| BR 3rd Person Trios | 150 Players | 3 Players |
| Unhinged BR Trios | 150 Players | 3 Players |
| BR Quads | 152 Players | 4 Players |
There are several queueing modes under Battle Royale, which you can freely choose from depending on your preference. These queueing options are Solo (1-player team), Duos (2-player team), Trios (3-player team), and Quads (4-player team).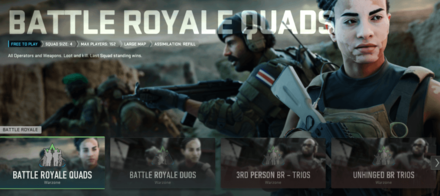 Unhinged BR Trios
Unhinged BR Trios is a bit different from the other BR game modes. It allows your team to team up with another enemy team through the Assimilation Feature, increasing the total number of players in a team up to six.
Battle Royale Main Objectives
Loot to Get Stronger Weapons
You should prioritize looting items early in the match rather than seeking engagements and looking for kills. It is a safe, optimal move as you will have better chances of getting the best items as long as you're alive.
You can find these items inside houses, buildings, crates, and more, and they're all over the map!
Stay Inside the Safe Zone
As time goes on, the Safe Zone or the Circle will start shrinking and collapsing, which limits the playing area for all the Operators on the field. Make sure to get inside the Safe Zones before the deadly smoke reaches you to avoid getting damaged and dying.
Engage Enemies
Sooner or later, you will have to face enemies in a shootout as the deadly gas will start covering the whole Al Mazrah map. However, it is best to engage with enemies mid to endgame to secure a higher ranking at the end.
Play on Gulag After Dying to Respawn
If you die, assuming that is your first one, you will be sent to Gulag to battle against other players in a 2v2 match. The winning team will respawn back to Al Mazrah to fight with their team again!
Be the Last Man Standing to Win
Try your best to survive both the deadly gas and other teams to win in the Battle Royale. Use everything on your loadout and get on the best spot to kill enemies to become victorious!
Battle Royale Side Objectives
Complete Contracts
There will be tons of contract phones that you can get to do special missions. Some contracts will net you some cash, which you can use on Buy Stations to get your customized loadout and other unique equipment.
Clear Stronghold Areas
After the starting circle collapses, three Strongholds will appear on the map. You can clear one with your team to get better items as you progress into the match. However, it's risky as there will be tons of enemies, including other players clearing them for the rewards.