The story about Jackson Mahomes' arrest in May due to his connections on an incident that happened in February might be nearing an end, but the regrets might linger for a while.
Back in February, weeks after his brother Patrick won the Super Bowl, Jackson allegedly grabbed a restaurant owner in Overland Park and kissed her without her consent. Aspen Vaughn called the police that day to inform about the assault. He was charged with three felony counts of aggravated sexual battery and a fourth misdemeanor count of battery, and later released on a $100,000 bond.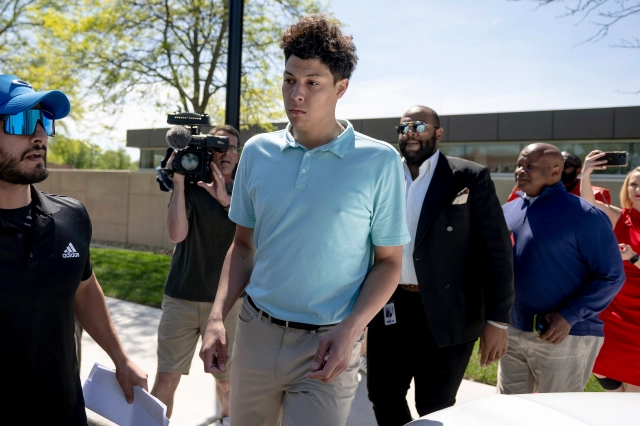 But as the pair is set to return to a Johnson County courtroom Friday, Vaughn seems to regret that she called the police in first place. During an interview with FOX reporter Malik Jackson, she's said that she's still not happy with what transpired that day, but that days have been exhausting for her and her business has suffered.
"What happened that evening we don't condone it – it wasn't OK, but in the same aspect we have our lives to live and to go on, and I feel like a lot of people just made assumptions and came after us," Vaughn said.
It's unclear what should happen to Jackson after the pair return to court tomorrow, but even though she says she wouldn't call the police if it happened today, Vaughn still says that everything happened without consent. And that's a no-no 100% of the time.
What does Jackson Mahomes do for a living?
Jackson Mahomes has made a living off of social media. The 22-year-old has over one million followers on TikTok, 36,000 followers on Twitter and over 200,000 followers on Instagram.
The brother of Patrick Mahomes graduated from the University of Missouri-Kansas City in May 2022 with a bachelor's degree in marketing. He tweeted last summer that he would need to begin looking for a job – remember, his brother has a $450 million contract with the Kansas City Chiefs.
Besides his role as a social media influencer, he also owns his own merchandise line called "Unathletic" which he launched in 2020. But it doesn't appear that he has any other career endeavours since his graduation last spring.